Getting a grip on Social Security: The flaw in the system
Topic: Facts and Figures
The Social Security issue fascinates me because it encompasses so many issues: macroeconomics, the media, presidential deception, public beliefs, fundamental economic ideology, and more. Overall I think that President Bush's attempt to promote private accounts for Social Security has been great because it has caused many people, including myself, to learn a lot more about this system, and the more I learn the more I see how good a system it really is. There is a core fundamental issue that has created the so-called "crisis" in the Social Security system, and I just figured out exactly what it is and how it works. As I have mentioned in my two articles on Social Security:
Social Security: Bush's Lies vs. Reality
The Truth About Social Security
General income disparity and wage income disparity have increased dramatically since 1980 in America. This is a major factor in how the "crisis" has come into being. The exact way in which wage disparity has led to "the crisis" (which isn't really a crisis at all as we will see) is this:
The Social Security tax, or really the OASDI tax, is levied on wages up to a certain point. That point is currently $90,000. Wages above that point are not taxed by OASDI.
Social Security benefits are adjusted yearly according to WAGE INDEXING. Wage Indexing is based on AVERAGE WAGES.
Over the past 25 years, average wages have increased and are projected to continue to increase, well above the rate of inflation.
Over the past 35 years, MEDIAN wages have remained relatively flat, which is to say roughly equal to the rate of inflation.
The result of this is that the scheduled benefits to be paid out to average workers in 2050 are 40% higher than the benefits paid out to current retirees in real terms. Basically, even though the income of the average worker (median income) in America has barely increased in real terms since 1973, the average income of the country has gone up significantly because the wages of the top 10% have pulled it up. Since the adjustments to benefits are made based on average wages, that means that the benefits being paid out to beneficiaries have been going up at a rate higher than the incomes being taxed to pay into the system.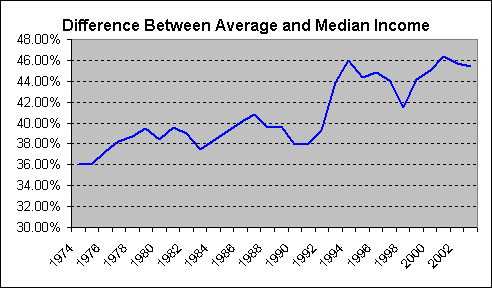 The above graph shows the percentage by which the average wage is higher than the median wage, over time. As you can see, there has been a 10% increase in the difference between the average and median wage since 1974. This is a problem because of the wage cap. The high incomes at the top end of the pay scale have pulled the level of scheduled benefits up, but those high incomes are not taxed by the Social Security system, so we have benefits going out that are adjusted by a different factor than what is used to bring payments in. In short, the middle class and poor are being called on to meet the spending requirements set by the wealthy. I have not yet heard anyone explicitly address this issue. I did not understand it completely until just now. I understood that wage disparity and the wage cap were problems, but I wasn't sure
exactly
in what way it was causing the problem. Now that the problem has been defined, solutions become quite easy. Of course I will continue to contend that wage disparity is the real problem in the first place, but I'll assume that fixing wage disparity is beyond the scope of fixing Social Security. Therefore, there are various ways to fix this specific problem, which would also fix the Social Security problem as it exists today in general. The following are independent steps that could be taken to solve the problem:
Base the benefit adjustment schedule on inflation indexing instead of wage indexing
Base the wage index on median wages instead of average wages
Remove the wage cap completely
Doing any one of these things should alleviate the problem, while Bush's privatization plan actually makes the problem worse. The problem actually exists in the way that benefits have been calculated since the 1970s, but it has become more noticable with time because of the massive increases in wage disparity. This problem would actually exist with or without the baby boom generation. Wage discrepancy, and a calculation that doesn't take wage discrepancy into consideration, is the source of the problem. The reason that it wasn't an issue in the past is because there was lower wage discrepancy in the 1940s-1970s. In fact, I now argue that the middle-class and poor have been significantly over taxed since 1983, when the payroll tax was overhauled, due to this calculation error, which is exactly what this is, an error. Regardless of whatever else is done, this error HAS to be corrected. It's like a bug in a computer program; it is a flaw pure and simple. We have, as far as I am concerned, been overpaying beneficiaries for the past 10-20 years and are currently scheduled to continue doing so. The amount of overpayment has probably been small thus far, I would guess a matter of less than $100 per check, but with so many checks it all adds up. The working-class, with 30+ years of stagnant wages, cannot continue to pay a tax based on the rise in wages for the top 10% of wage receivers. Of course, the best solution here would be for the working-class to fight for increased wages in the first place and for wage disparity to be reduced, but we can't wait that long to fix this problem, which is actually the product of a flawed algorithm. What could be the very best solution overall would be to eliminate the wage cap and change over to using median wage indexing. This should both make the system indefinately solvent, and actually provide enough of a boon to allow the OASDI tax to be reduced by 1% to 2%. There is your "privatization", just reduce the tax and let people keep more of their money in the first place. Please write to your Senator, or to all Senators, and urge that this issue be acknowledged and addressed:
US Senators